Harris Regional Cancer Center completes expansion; provides state-of-the-art care to patients close to home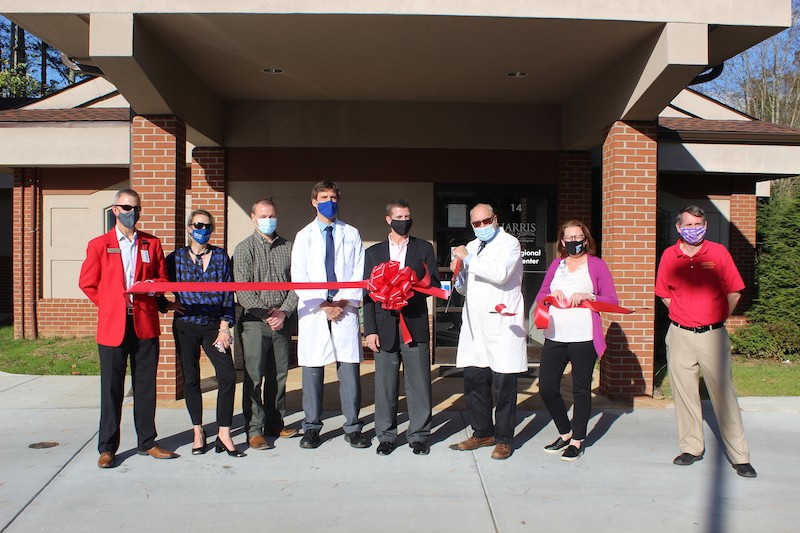 Harris Regional Hospital is pleased to announce the completion of an $8 million expansion at Harris Regional Cancer Center featuring state-of-the-art radiation therapy technology to benefit patients and families across western North Carolina. Harris Regional Cancer Center is located at 14 Medical Park Loop on the Sylva campus.
David S. Thomas, MD has been providing radiation therapy services at Harris Regional Cancer Center for more than two decades. Jarred Tanksley, MD joined Dr. Thomas in July, having completed a residency in radiation oncology at Duke University Medical Center, completing an internship in internal medicine at the University of Tennessee Medical Center, and receiving a medical degree from Vanderbilt University where he additionally earned a doctorate in cell and developmental biology. Harris Regional Cancer Center includes a team of dedicated staff members who are trained at the highest levels of their professions.
"It is our privilege to serve the region with the latest technology in radiation therapy," said Steve Heatherly, CEO of Harris Regional Hospital and Swain Community Hospital. "The new equipment and space at Harris Regional Cancer Center means we can care for patients with more advanced treatments, for more types of conditions, eliminating travel to distant locations."
The completion of the expansion at Harris Regional Cancer Center will complement the hospital's recent breast care initiative featuring the additions of specially-trained breast surgeon Allison Palumbo, MD and reconstructive surgeon Ryan Marshall, DO at Harris Surgical Associates, and 3-D mammography at Harris Regional Hospital.
The renovation added more than 2,000 square feet to the building and included an aesthetic makeover of the existing 5,500 square feet. Harris Regional Cancer Center is pleased to have partnered with the School of Art and Design at Western Carolina University to feature original student artwork led by Professor Erin Tapley. For more information, visit MyHarrisRegional.com or call (828) 586-7610.
Read All Posts