Harris Medical Associates Welcomes Dr. Kayla Williams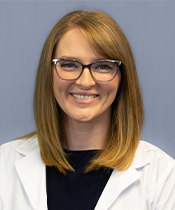 Harris Regional Hospital is pleased to welcome Dr. Kayla Williams, to Harris Medical Associates. Dr. Williams joins Dr. Queen, Dr. Dixon, Dr. O'Malley, and Jessica Jones, NP, providing primary care services to Jackson County and the surrounding region.
Dr. Williams graduated from the University of Kentucky with two Bachelor of Arts degrees in Music and Spanish, respectively. She continued her education at the University of Kentucky College of Medicine where she also participated in a rural physician leadership program to advance her service and leadership in rural communities. Upon graduation of medical school, Dr. Williams completed her residency at the University of Arkansas in Fayetteville, Arkansas. Dr. Williams had rotations at Mercy Hospital, Veterans Healthcare of the Ozarks, and UAMS North Street Clinic in Arkansas.
Dr. Williams has previously participated in quality improvement projects to address discharge processes and patient education amongst VA hospital systems.
"We are pleased to welcome Dr. Kayla Williams to Harris Medical Associates, Harris Regional Hospital, and the medical community in Jackson County," said Chris Munton, CEO of Harris Regional Hospital and Swain Community Hospital. "It is our privilege to provide the needed primary care to residents in western North Carolina, understanding that primary care is the foundation in which to both prevent and treat chronic disease. Dr. Williams will be a wonderful addition to our team at Harris Medical Associates."
Harris Medical Associates is a department of Harris Regional Hospital providing family medicine and internal medicine. Family physicians deliver acute, chronic, and preventive medical care. The staff at Harris Medical Associates diagnoses and treats illnesses, as well as providing preventive care, including checkups, health risk assessments, immunizations, and screenings.
Harris Medical Associates is located at 98 Doctors Drive, Suite 200, Sylva, NC 28779.
Appointments may be made by calling 828.586.8971. For more information on Harris Medical Associates, visit HarrisMedicalGroup.com/our-practices/harris-medical-associates.
Read All Posts