Get Directions
68 Hospital Road
Sylva, NC 28779
Get Directions
Hours
Open 24 hours
At Harris Regional Hospital, our Emergency Room (ER) team is staffed 24/7 with emergency physicians, nurses and staff who are trained in providing emergency care. Our team combines advanced training with compassionate service to be ready for you or your family when you need it the most.
What to Expect in our ER
As a patient, you will be cared for by staff trained to respond to any type of medical emergency. We understand a visit to the ER can be a very stressful time; therefore, you should expect us to communicate with you and guide you through your situation. You should always ask questions if you do not understand. Emergency care provided at Harris Regional Hospital includes but not is limited to:
24-hour staff readiness
State-of-the-art diagnostic and treatment equipment to help track and monitor patient progress
Cardiovascular laboratories and surgical suites
Digital radiology rooms that are located in the department, eliminating the need to move patients to other sections of the hospital for testing
Sophisticated computer technology that provides patient lab results, diagnostic information, discharge information and other confidential data quickly and securely
Direct access to cardiologists for emergent cardiac care
Rapid CT scanning and medication administration for stroke patients.
Quality Emergency Care
The national recognition we've earned demonstrates our staff's commitment to providing the highest quality of care including:
American College of Cardiology Chest Pain Center Accreditation
Harris Regional Hospital received Chest Pain Center accreditation from the American College of Cardiology. We are dedicated to providing our patients with the best heart care treatment available. As an accredited facility, we use the newest methods and best practices in heart care to ensure that our patients receive: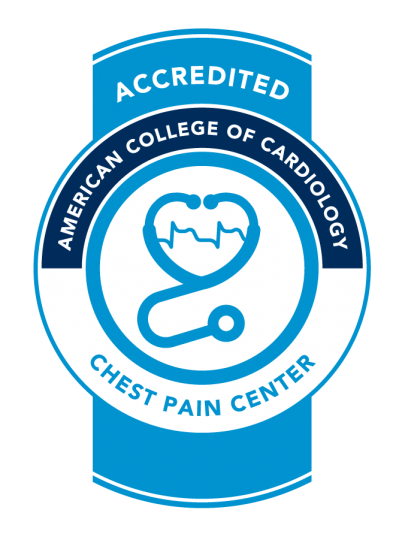 Right care at the right time to minimize or eliminate heart damage due to heart attack
Timely and accurate diagnoses to reduce the disruption to your life and get you back home as soon as possible
Help and communication to better understand how to respond to your heart emergencies
Improved quality of life after a heart episode
Learn more about Chest Pain Awareness
Sylva Emergency Group
Sylva Emergency Group proudly provides emergency medical services at Harris Regional Hospital. Because the emergency providers are independent of the hospital, sometimes the insurance relationships differ between the hospital and the provider. While Sylva Emergency Group continues to develop relationships with many insurance companies, we arc currently not in network with Blue Cross Blue Shield (BCBS). As a BCBS subscriber you may be assured that the emergency providers will accept what the insurance pays and will only bill you for your co-insurance and deductible amounts, writing off all non­allowed charges. Although you may receive an Explanation of Benefits (EOB) from your insurance company that shows a non-allowed or non-approved amount. please be assured that the emergency physicians will accept what the insurance pays and will only bill you for your co-insurance and deductible amounts, writing off all non-allowed charges. Please be aware that sometimes patients receive the payment for emergency provider services directly from their insurance company. In the event you receive the payment directly from BCBS, we ask that you deposit the check in your personal bank account and send us a check or money order for the same amount to the address below along with the EOB from BCBS, so that appropriate adjustments can be applied.
lf you have any questions, do not hesitate to call our billing office at the number below.
Schumachergroup
Sylva Emergency Group, LLC
888.703.3301
Monday - Thursday: 8:00 am until 8:00 pm
Friday: 8:00 am until 5:00 pm
Urgent Care
Visit our urgent care center when you need immediate care for minor illnesses or injuries. We have on-site lab and X-ray capabilities and we offer convenient hours
Open 7 days a week - 8:00 am until 6:30 pm